Posted by Madison Dogariu on Oct 11th 2023
When it comes to bathroom fixtures, Toto stands out as a brand that combines innovation, design, and functionality. Among their impressive lineup, three models - Nexus, Guinevere, and Neorest - represent the pinnacle of luxury and performance. Let's explore the unique features and benefits of each model to help you decide which one suits your bathroom decor best.
Toto Nexus: Modern Elegance
The Toto Nexus series is a showcase of modern design and sleek lines. Its clean, minimalistic aesthetic makes it a perfect fit for contemporary bathrooms. But it's not just about looks; the Nexus offers impressive features as well:
Efficiency: Toto Nexus toilets are equipped with the powerful Tornado Flush system, ensuring efficient flushing with less water.
Comfort Height: The comfort height design offers an ergonomic seating position, making it ideal for those who prefer a chair-height toilet.
Easy Maintenance: The CeFiONtect glaze ensures a smooth, easy-to-clean surface, keeping your toilet looking pristine.
Luxury: The Nexus also provides continuous warm water for washing, ensuring a sanitary and comfortable cleaning.
Soft Touch: This toilet features a soft close lid which prevents jarring noises and slams.
A Light in the Dark: Toto's Nexus also features a nightlight so you can find your way in the dark.
The Toto Nexus is a perfect choice for those who appreciate modern, clean-lined decor and eco-conscious bathroom fixtures.
Toto Guinevere: Timeless Beauty
The Toto Guinevere series embodies timeless beauty and traditional elegance. These toilets are an excellent choice for bathrooms that feature classic or transitional decor.
Decorative Flair: The Guinevere series boasts ornate details and a classic design that adds a touch of sophistication to your bathroom.
New Age Comfort: Guinevere toilets are designed in classic appearance with modern efficient flushing and comfort.
Water Efficiency: Many Guinevere models feature the E-Max flushing system, delivering excellent performance with less water.
TORNADO FLUSH utilizes 360º cleaning power to reach every part of the bowl, reducing the need for harsh cleaning chemicals.
CEFIONTECT ceramic glaze minimizes waste from sticking to porous ceramic surfaces, making cleaning effortless.
The SOFTCLOSE® seat offers a gentle and quiet closing mechanism, providing a seamless and hassle-free experience. Its innovative design ensures that the seat closes slowly and smoothly, preventing any accidental slams and reducing wear and tear over time.
The Toto Guinevere series is the perfect choice if you want to create a bathroom with a timeless and elegant atmosphere.
Toto Neorest: Unmatched Luxury
If you desire the epitome of luxury and cutting-edge technology in your bathroom, the Toto Neorest series is your go-to option. These toilets are a true testament to innovation and opulence.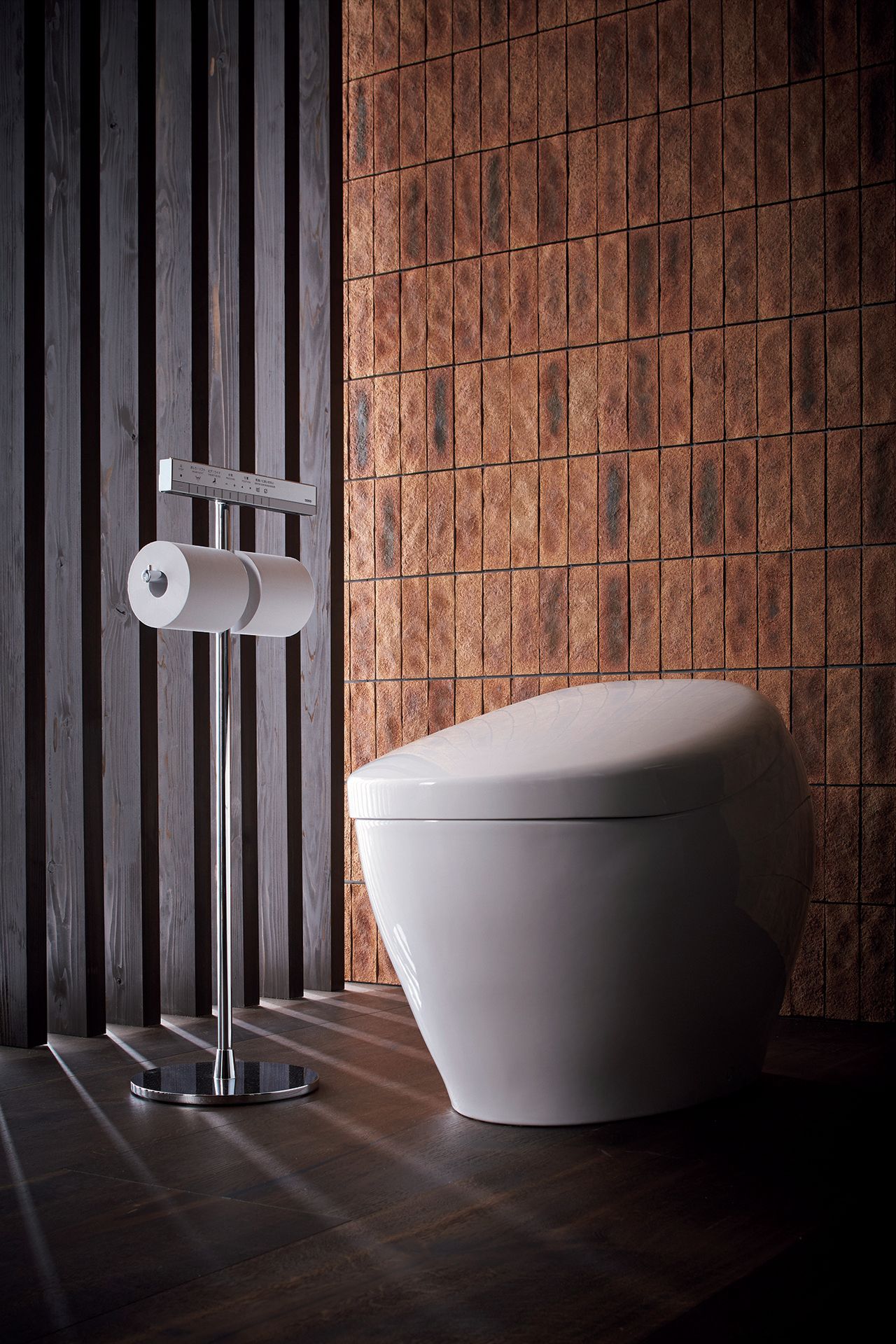 Integrated Bidet: Neorest toilets come with an integrated bidet, providing you with a personalized and hygienic cleansing experience.
Automated Features: They feature automatic flushing, lid opening and closing, and even a deodorizer for convenience and sanitation to enhance the overall experience.
Space-Saving Design: The Neorest models are compact and space-saving, making them perfect for smaller bathrooms where every inch counts.
Easy Maintenance: TOTO's extraordinarily smooth CEFIONTECT glaze minimizes waste from sticking to ceramic surfaces, making cleaning effortless.
The PREMIST wets the surface of the toilet bowl, aiding in the removal of waste and resulting in a better clean.
Clean Living: TOTO's ultra-high-efficient TORNADO FLUSH siphon jet flushing system results in a cleaner bowl every flush.
Includes multifunction, illuminating remote control and mounting hardware with 4 user memory function
Built in nightlight fills the bathroom with a soft, illuminating glow
Dual-nozzle bowl cleansing creates a centrifugal force to wash away tough jobs more efficiently and proactively helps conserve water
Bidet seat designed with rear cleanse, soft rear cleanse, front cleanse, oscillating, and pulsating spray; all include water pressure and temperature control
The Toto Neorest series is for those who desire the ultimate in luxury and cutting-edge technology in their bathroom decor.
In conclusion, Toto offers an impressive range of toilets and washlets to suit a variety of bathroom decors and preferences. Whether you're a fan of modern minimalism, timeless elegance, or unmatched luxury, there's a Toto model for you. Consider the Nexus for contemporary settings, Guinevere for classic or transitional decor, and Neorest for the pinnacle of luxury and convenience. Make your bathroom a true reflection of your style and comfort with Toto's exceptional offerings.
Contact us today to explore more options for your bathroom, or to speak with an expert who can answer any questions.